Winter Is the Season for Hygge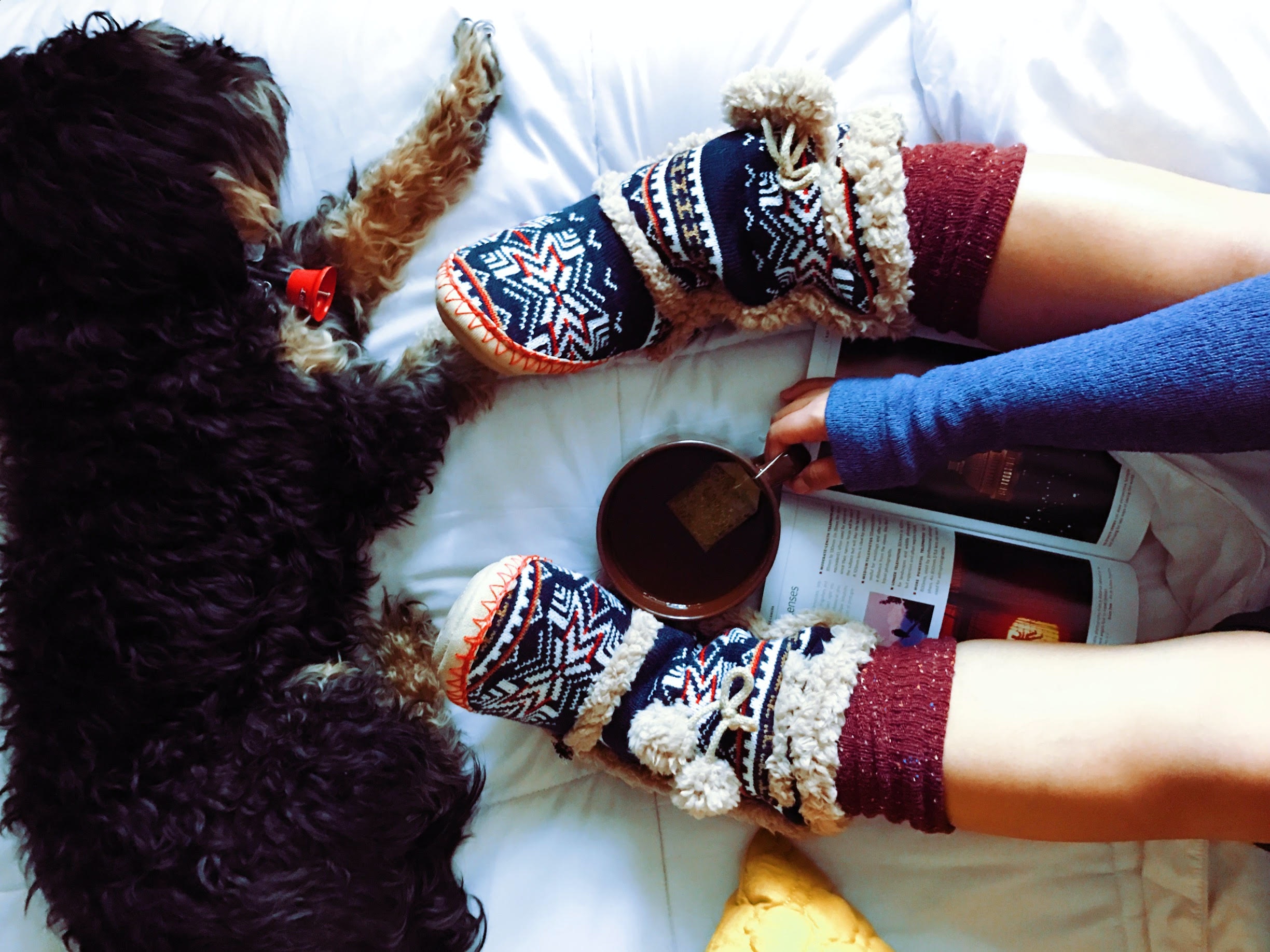 The winter chill has settled in, and it's time to burrow down into cozy soft throws, pull on some fluffy socks and sweatpants, light some candles, and sip a hot toddy or mulled wine while reading a hardback copy of E.E. Cummings or Jane Austin. Or maybe you'd prefer to bundle up in a cable knit sweater for a brisk walk with good friends around the many parks in Gainesville? Or go bird watching in Paynes Prairie Preserve State Park?
Sound like just what you need about now? Then the green homebuilders at Tommy Williams Homes want to introduce you to the Danish concept of hygge (pronounced "hue-ga"). There is no precise English translation for the word, but it's as much a part of the Danes' character as independence and freedom are to ours.
Loosely translated, it means coziness or comfort, but it's much more than that. It's all about slowing down, appreciating the moment, pursuing the small joys in life. It connotes a deep connection to friends, family, and nature that generates an overall feeling of well-being.
If this sounds like what you've been looking for, here are some ways to let the hygge flow into you.
Go for homey comfort
You don't have to go all Marie Kondo to achieve a hygge home. But you do want to keep distractions to a minimum and try to keep clutter under control. Think of the clean lines and minimalism of Danish modern or Scandi-style furnishings.
It means a neutral color scheme with an emphasis on natural fibers and wood. Comfort is the watchword, whether in rugs, furniture, or the many beige and cream pillows and throws scattered about. You can also bring in discreet touches of nature, whether that's a green plant in a simple stone pot or a single orchid in a glass vase.
Create intimate, cozy nooks
As we mentioned above, the closest English translation of hygge is "cozy," so you will want to create inviting areas in your home which encourage you to slow down and take some time for yourself. The classic hygge space is a reading nook, where you can curl up with some hot chocolate and a book that takes you away from your everyday concerns.
With better weather, you can also set up restful areas to retreat to in the backyard. A hammock or swing can be the perfect place to engage in the hygge lifestyle. Or maybe a chaise longue with extra-thick cushions and a glass of lemonade nearby.
Let in the light
Open the curtains and allow natural light to flood your home, especially on cloudy or rainy days. If you have a fireplace, a crackling fire is quintessential hygge. So are candles, because their glow is softer than harsh overhead or electric lighting. Denmark sells more candles than any other country in the world because their gentle flickering evokes the hygge feeling.
Once the holidays are over, consider keeping a string or two of fairy lights curling up a staircase or stretched along a mantel. Or think about adding table lamps and accent lighting tucked away in the corners of a room to provide a warm glow.
Simple joys
Home cooking and baking as a family are a big part of hygge. Many of us have already rediscovered this ancient practice in response to the pandemic. We've learned to bake bread, cookies, and cakes the old-fashioned way, and enjoyed the homey fragrances of yeast and spices as they waft throughout the house.
Again, because of the pandemic, we've also rediscovered the concept of family togetherness, whether crafting together, playing board games, or just enjoying simple conversation.
Sharing intimacy
Connections with friends have been difficult this year, but they are a key value of hygge culture. They are also necessary for our physical health and psychological well-being. One study found that a lack of social connections is a greater threat to health than smoking, obesity, and high blood pressure.
Unfortunately, gathering together with those outside our households is hazardous to our (and their) health right now. But do try to keep in touch with close friends and family, whether by video chats, texting, or even old-fashioned letter writing or phone calls. It's the connection you're after . . . the hugs can come later.
Get out and about
No matter how much nature you bring into your home, it can't take the place of the real thing. The Danes make it a point to get outside every day, no matter the weather. Studies show that being outdoors—whether strolling in a park or just sitting in your backyard—makes you happier, more energized, and less stressed.
So text some friends and head outdoors for a (socially distanced) stroll around the neighborhood.
What hygge isn't
The one thing that isn't hygge is busyness. Americans pride ourselves on our dedication to our jobs and how much we can accomplish in a single day. In fact, we take fewer vacation days than any other developed country on earth.
That is the exact opposite of hygge. 
So this winter, kick back, let yourself relax, and find ways to savor the simple joys in life. 
And if you're looking for the perfect place to practice the hygge lifestyle, come and see the beautifully crafted net-zero homes from Tommy Williams Homes.