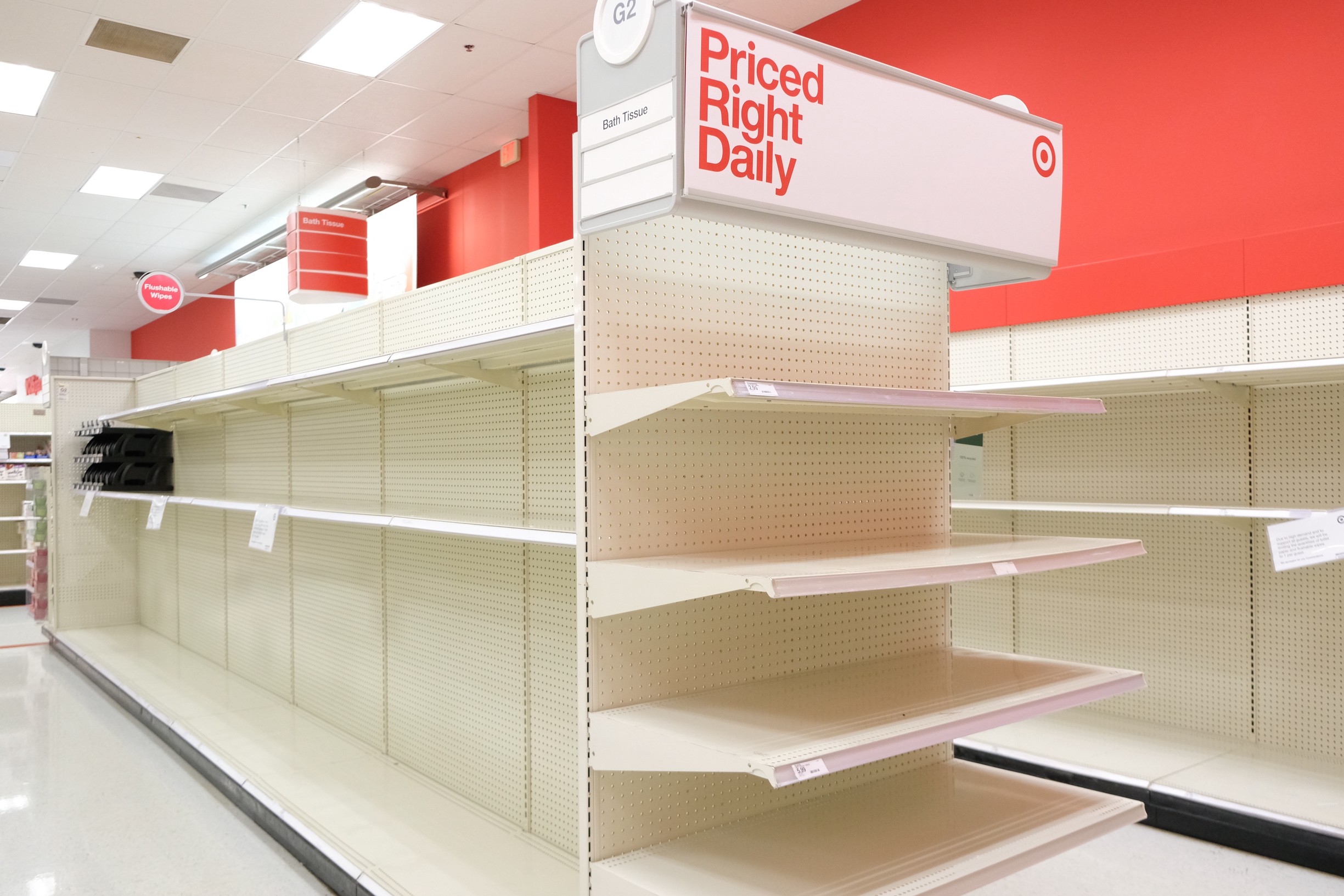 If you're one of the millions wondering what is going on with the vanishing toilet paper lately, the green-home builders at Tommy Williams Homes in Gainesville have an explanation for that—and for other shortages—as well as a note of caution as you try to adapt to the recent lack of TP.
Of course, hoarding is a major factor as people face the prospect of not being able to get to the store to replenish their supply. If you're quarantined for the coronavirus, it could be weeks before you're allowed to leave your house. And with grocery delivery backed up often a week or more—if you can even get it—people figure the one thing they won't be able to do without is toilet paper.
In addition, psychologists explain that the hoarding phenomenon, whether of food, water, toilet paper, or cleaning products, is one way people have to exercise a measure of control over a situation that is otherwise completely out of their control.
It's not just the hoarding
But that still doesn't explain the weeks-long, serious shortage of toilet paper we've been experiencing, not only around the country but around the world. So what does?
It turns out that our just-in-time (JIT) manufacturing processes are also playing a large role. JIT is a concept that arose in the late 1960s and 1970s, primarily in Japan at Toyota. This concept seeks to save on warehousing and overproduction costs by using sophisticated forecasting models combined with streamlined production to manufacture only what companies project will be needed/wanted by consumers.
Toilet paper is one of those items that is a space hog in warehouses, so manufacturers produce only that needed to meet normal consumer demand. Thus, there aren't pallets of the stuff sitting around somewhere awaiting distribution (although producers have lately been gearing up to meet the sudden demand).
The other piece of the puzzle has to do with our newly changed venues: When states began issuing stay-at-home orders, people were no longer using the bathrooms at work, school, and restaurants, all of which use industrial-type toilet paper instead of the softer, individually wrapped kind produced for home use.
So the need for consumer-grade paper has soared, while the giant wheels of the thin, single-ply stuff sit around unused.
It's true with food, too
While none of us is currently in danger of starving to death, the types and variety of food we're used to seeing in the supermarkets have also seen spotty shortages. Part of it is due to the fact that at any time we could be quarantined, and so many of us are stockpiling (some would say "hoarding") products with a long shelf life: peanut butter, soups, pasta, tuna, and so on.
Other items that have all but disappeared include normally boring staples like flour and yeast. This is because of the surge in baking that's occurring among those who are staying at home lately.
But the biggest cause is similar to that of toilet paper: About half of American spending on food in this country is usually done at restaurants or fast-food places. The normal food distribution system in this country is set up to accommodate bulk sales of food to such places.
Companies that package their products in institutional-size containers don't have the capacity to quickly retool factories to accommodate individual sales to supermarkets for use in households.
And now a word of caution
If you do run out of toilet paper and are forced to improvise, never flush any toilet paper alternatives down the toilet. Unless you want to help put your plumber's kids through college, throw such items into a plastic bag to be disposed of.
This includes baby wipes, disinfectant wipes, cosmetic wipes, paper towels, napkins, newspapers, or anything else you might turn to in desperation. Even if the label says "flushable," don't, according to plumbing experts.
"Toilet paper is specially designed to dissolve in water," according to one. "Use anything else and you're just asking for trouble."
Meanwhile, if you're looking for a home, remember to check out Tommy Williams Homes for the best in sustainable living through intelligent design, responsible construction, and cutting-edge energy efficiency.
If you are interested in viewing one of our quick-delivery or model homes, we will be happy to accommodate you with a private viewing or through a FaceTime or Zoom call.
We have also expanded our opportunities for you to view our award-winning, net-zero homes remotely, with virtual tours on our YouTube channel.