Six Essential Spring Chores for Your Home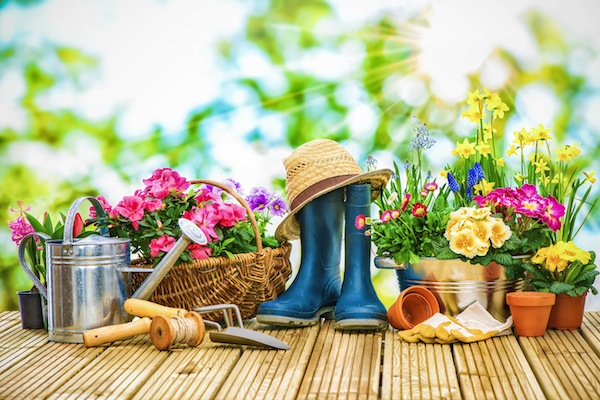 We're fortunate here in Florida not to have to cope with snow on roofs and ice dams in the gutters like our friends in the frozen north. But we still have our share of required maintenance tasks necessary to keep our homes in top condition before summer arrives.
So here are six chores that we at Tommy Williams Homes of Gainesville, Florida, recommend you perform before the heat of summer sets in.
1. Inspection
First, go over your entire property and look for signs of damage. Examine the roof for missing, warped or torn shingles, or any other signs of deterioration that might impact the structural integrity of the roof. Check for any damage to siding, as well, and have it repaired.
Also look for areas of standing water, which can breed mosquitoes, and for any leaking pipes, faucets, and air conditioning units, which can provide a water source to termites. And be sure to check for leaks or gaps around windows and doors that can allow heat and water into your home or let cool air out.
2. Roof
If the shingles are damaged, they can allow water inside, so have them replaced. If the roof is older than 20 years, consider having a new one installed. If it needs to be repaired or even replaced, schedule a roofing contractor as soon as possible before the summer construction season begins. Also look for signs of algae (green, mossy looking growth or black streaks on shingles) which can damage the limestone filler in asphalt shingles. Have such stains removed.
3. Gutters
Ensure all gutters and downspouts are flush with the house. Clean out any debris in the gutters which—in addition to causing spillovers—can encourage mold, mildew, and even mosquitoes. Then, to test that they and the downspouts are clean, intact, and draining properly, carry your hose up to the roof and run water through them. Seal any leaks in the corners or seams with a gutter patch compound, or replace any that can't be repaired.
4. Exterior
Now is the time to sand, prime, and paint any peeling spots you find on woodwork or trim. Fix leaks around doors and windows with caulk or weather stripping. If you have a brick home, be sure the grout is in good condition and fill in any expansion joints.
Also, seal any vents that allow pests access to the interior of your home. This includes the dryer vent and the kitchen and bathroom fan vents. Mice can access holes and cracks as small as a #2 pencil, so ensure that every possible access point is sealed. First, though, be sure there are none currently occupying such areas as the wall, attic, or dryer vents. If you have active nests of mice or squirrels, for example, and accidentally seal up living creatures, the resulting odor when they die will permeate your home for days or weeks.
5. HVAC
Have your HVAC unit serviced now, before it breaks down in the heat of the summer, and change the filter. Trim back or remove any overgrown plants, and clean up yard waste around the unit. If you have a dehumidifier, vacuum dust or dirt from the coils, check it for mold or mildew, and ensure it's running properly.
6. Landscape
Not only is it easier to perform landscaping chores before the heat of mid-summer sets in, but it's also easier on transplanted plants and shrubs to get them into the ground now. This allows the root system time to grow and adapt to the new soil without the added stress of summer heat. Clean out dead plants, sticks, grass, or weeds around the yard, and mulch beds.
Also, use this time to ensure lawn equipment is in good condition, and get it ready for use. Drain old gas and oil from your mower if you didn't do so last fall, make sure belts and blades are in good condition, and replace spark plugs.
And when you're ready to move up to an energy efficient home designed to your exact specifications, look to Tommy Williams Homes communities throughout Gainesville, FL.