Go To the Movies in Your Own Backyard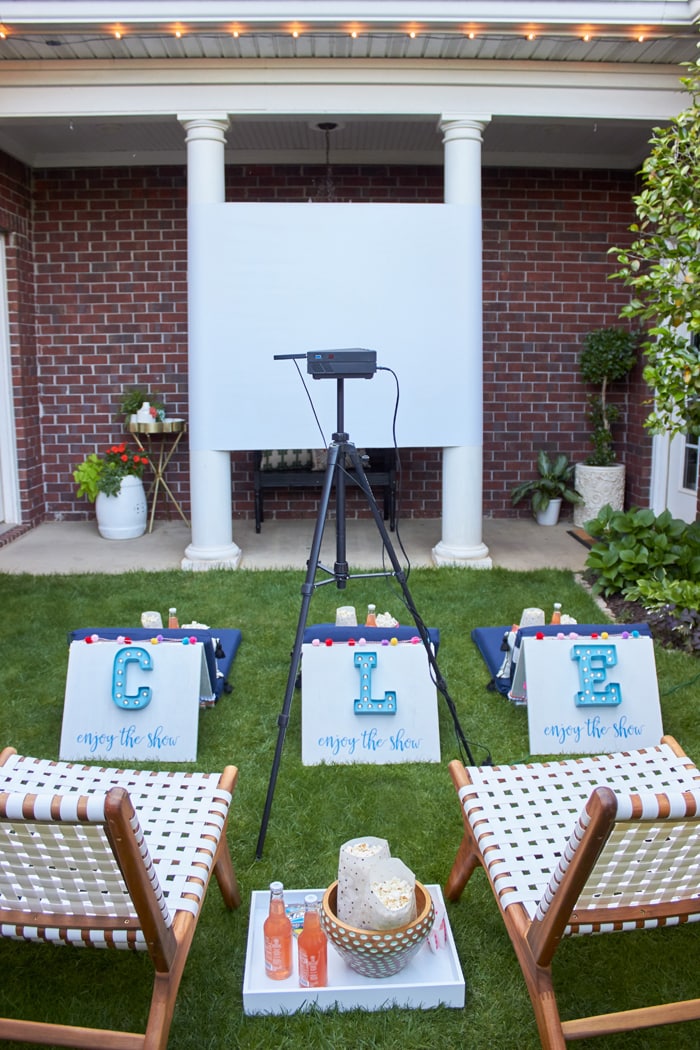 There's no doubt that the coronavirus pandemic has changed our way of life. We've had to adjust to a lifestyle that includes avoiding places that could be hotspots for disease outbreaks, such as theaters. That doesn't keep us from missing "the good old days," including going to the movies. Humans, however, are remarkably resilient and are especially good at adapting to new circumstances.
One way to do this is to bring the movie theater to you, specifically by setting up your own backyard home theater. Think of it as a retro experience, if you're old enough to remember drive-ins: surrounded by the sweet summer night, crickets and katydids chirping in the background, the stars overhead, and eating and drinking anything you like in the comfort of your car.
The components
You could build a permanent outdoor theater, and may want to eventually once you realize how fun it can be, but for starters, a makeshift set-up may be your best bet.
Backyard movie projectors can be had as cheaply as $50 at WalMart, or as pricey as $500 or more online. Just be sure whichever one you choose is compatible with your content format (HDMI connection, Blu-ray, DVDs, Amazon Fire Stick, etc.). Also, look for one with a lumen (brightness) rating of about 2,500 lumens, a keystroke correction (to keep the picture level on an uneven surface), and a 1080 pixel resolution.
You can also buy special screens, including inflatable ones, but a white king-sized bed sheet would do as well to start off. Just make sure it's taut and anchored to stay that way. Or, if your walls or garage door are white, you could project the film onto that.
You'll also want a set of Bluetooth speakers or some other type of portable speakers that allow you to hear the film over ambient sounds such as passing cars, wind, or noise from other neighbors. (By the way, do check to be sure you're not blasting "Bohemian Rhapsody" into their bedrooms, or iffy language and content their children could overhear—headphones might be an option if neighbors are very close.)
The site
You will need at least 10-15 feet between the projector and screen, so factor that in when you're setting up your viewing area.
Any lighting will interfere with viewing, so be sure to turn off all indoor and outdoor sources of light. If a street light is nearby, you'll need to find a place in your yard away from its glow.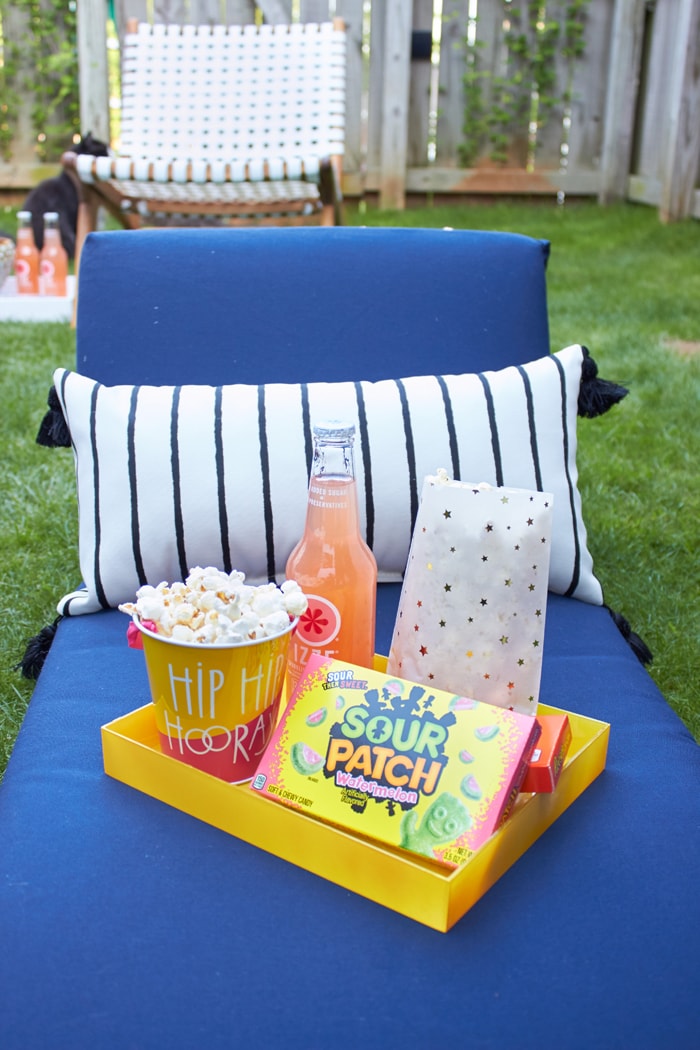 The food
It's your theater, so you can serve any type of food you like, but it's probably best to stick to the types of fare they sell in real movie theaters. Anything too elaborate can distract from watching the picture, and be difficult to manage in the dark without making a mess.
So think finger food, from the traditional popcorn (with sweet and savory toppings), nachos, pigs-in-blankets, chicken nuggets, and so forth. For drinks, the sky is (literally) the limit, but you'd do best with plastic glassware to avoid breakage and to make for easy cleanup afterward.
The frills
Seating can be anything your family finds comfortable, from blankets and outdoor pillows on the lawn to deck and patio chairs to beach loungers.
You will, of course, need access to a power outlet for your equipment. Extension cords should be rated for outdoor use.
To keep bugs away, place citronella candles around the viewing area, and/or have everyone spritz on some bug repellent. You can use a bug zapper, but it will probably kill more beneficial bugs than mosquitoes, not to mention that the frequent "zzziiit" sound could distract viewers from the movie. The same holds true for fogging the yard in advance: Beneficial insects will also be killed.
Practice COVID cautions
The reason movie theaters aren't available right now is because there is a highly contagious killer in our midst. We have no vaccine or reliable treatments, so we urge caution in including those outside your immediate family.
The virus appears to be less contagious outdoors, of course, but guests will have to use the bathroom at some point, which should then be thoroughly disinfected after each use. If you do invite outsiders, masks are essential to protect everyone there.
By the way, if you're looking for a lovely home with a great backyard that will accommodate movie viewing—or any other activity—be sure to look first at the net-zero homes from Tommy Williams Homes, Gainesville's preeminent green builder.