Make Your Bathroom Feel Like a Spa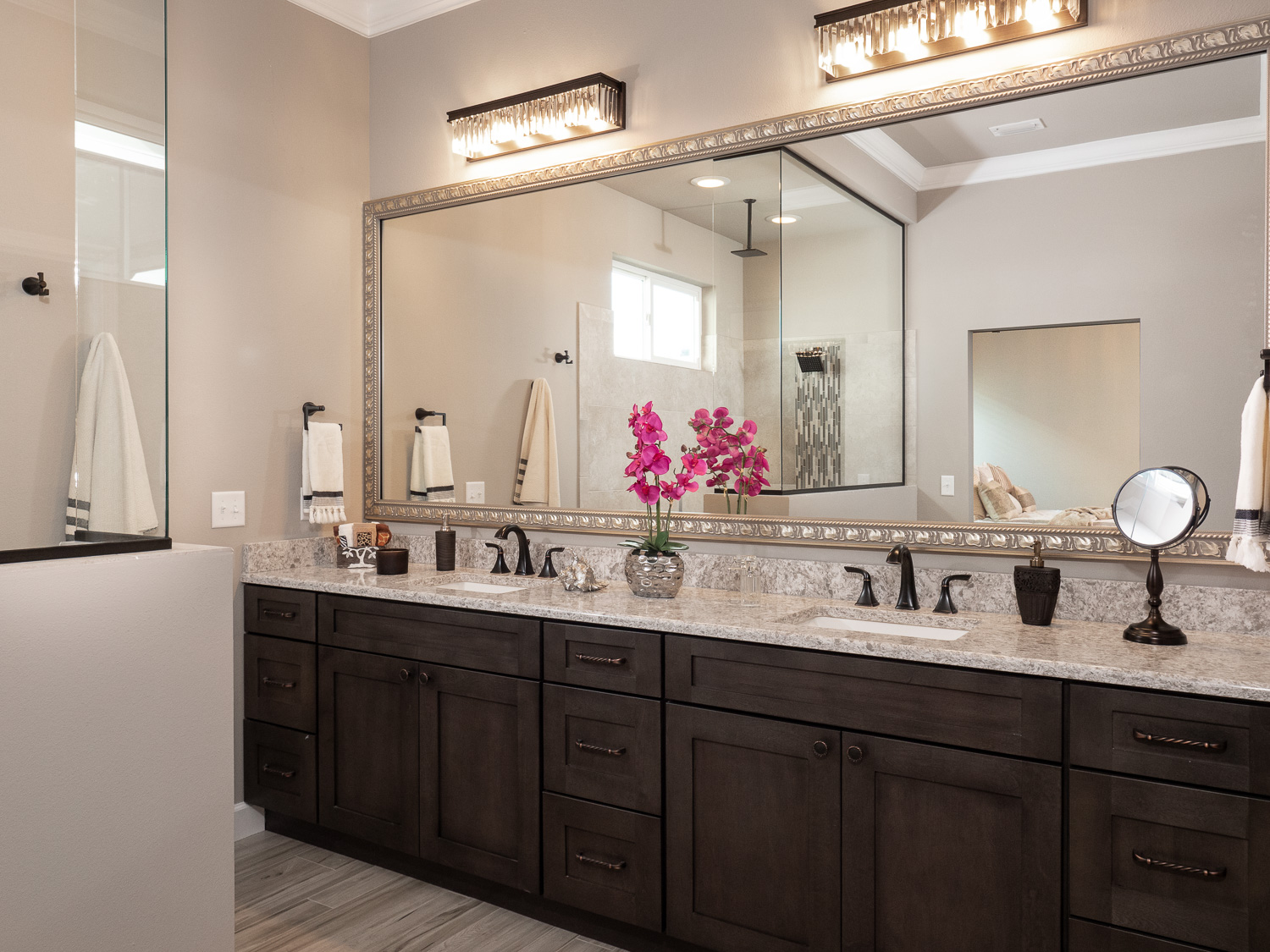 With so many of us sheltering at home, it may have begun to feel as if the walls are closing in. And even though we're now able to get out more, it's still not the same as in pre-pandemic days: remaining restrictions in public places, scattered shortages in stores, more tension than before . . . the freedom we've been dreaming about for weeks isn't as carefree as we'd envisioned.
As a result, the only place we can escape all that remains our home. But if the last couple of months in seclusion have had you climbing the walls, maybe what you need is a special area to retreat to within your own home. And what better sanctuary than a bathroom with the clean, serene feeling of a spa?
If you're living in a beautifully designed, net-zero home from Tommy Williams Homes in Gainesville, you're halfway there. Our carefully crafted master baths set the stage for just such a soothing transformation, with natural lighting, modern fixtures, superior insulation, and quality construction.
Go minimal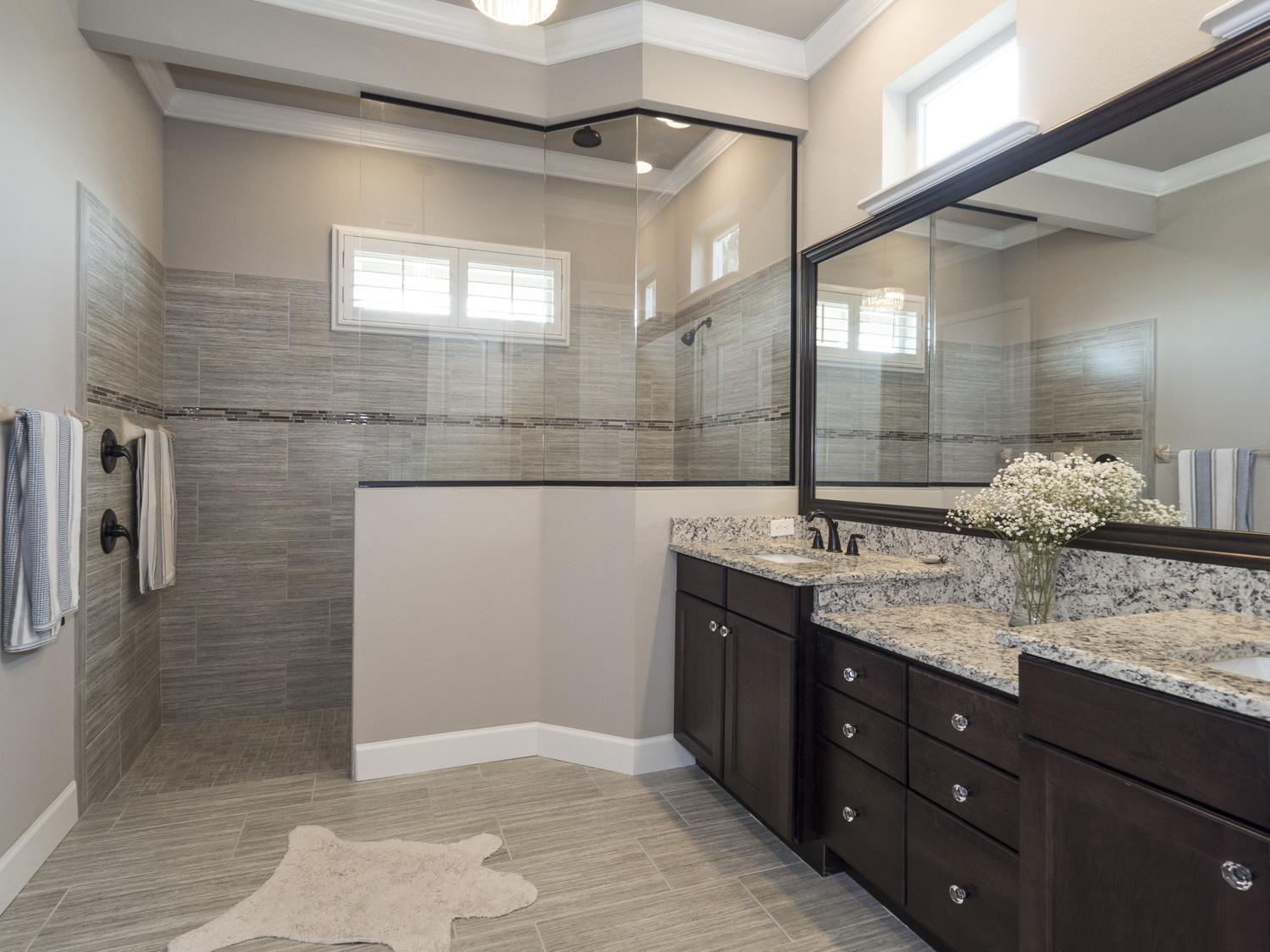 There's no need to begin extensive remodeling to achieve the ambiance of a spa, unless you'd like to install a stone sink or heated floors. Instead, just a few simple touches will make you feel pampered and serene.
First let's look at the elements that give a spa that unique aura of tranquility. A professional spa is clean, bright, and spacious. It is clutter-free, of course, which immediately provides an impression of peace on entering. Studies show that when a space contains a lot of clutter, the eye darts from one object to another, so the mind can't find a place to rest, thus producing a subliminal feeling of stress.
Feng shui practitioners would say a cluttered room impedes the free flow of chi, or healthy energy, while a 2009 study found that levels of the stress hormone cortisol were higher in those whose homes were cluttered.
You don't have to go all Marie Kondo and remove clutter from every room in your home, but to achieve true relaxation in the bathroom, aim to have as few items in the room as possible, and select them carefully.
The secret to this is storage, because most, if not all, of the items we keep in the bathroom are there because we need them. But that doesn't mean they can't be stashed away in closed cabinets, wicker hideaways, or handy drawers.
Not every necessity must be out of sight, however. A set of fresh, rolled towels tucked into a raffia basket leaves them visible (and accessible), but also makes a subtle design statement. So does a loofah or natural sea sponge in its own special container.
Go natural
Chic spas make extensive use of nature-related elements against a sparkling white background. If you're going for the spa-feel, keep in mind that bold colors and accents are out. Opt instead for calming, muted shades of the earth: forest green, sunrise pink, sand beige, sky blue, ocean aqua.
Other ways to introduce outdoor elements into the overall decor include a bamboo bath mat, a small wooden stool or cabinet by the tub, or even a piece of bleached driftwood.
But here, as throughout the room, restraint is the key. Think of the impact of a single orchid alone on the counter, or a lush fern hanging by the window.
Go luxurious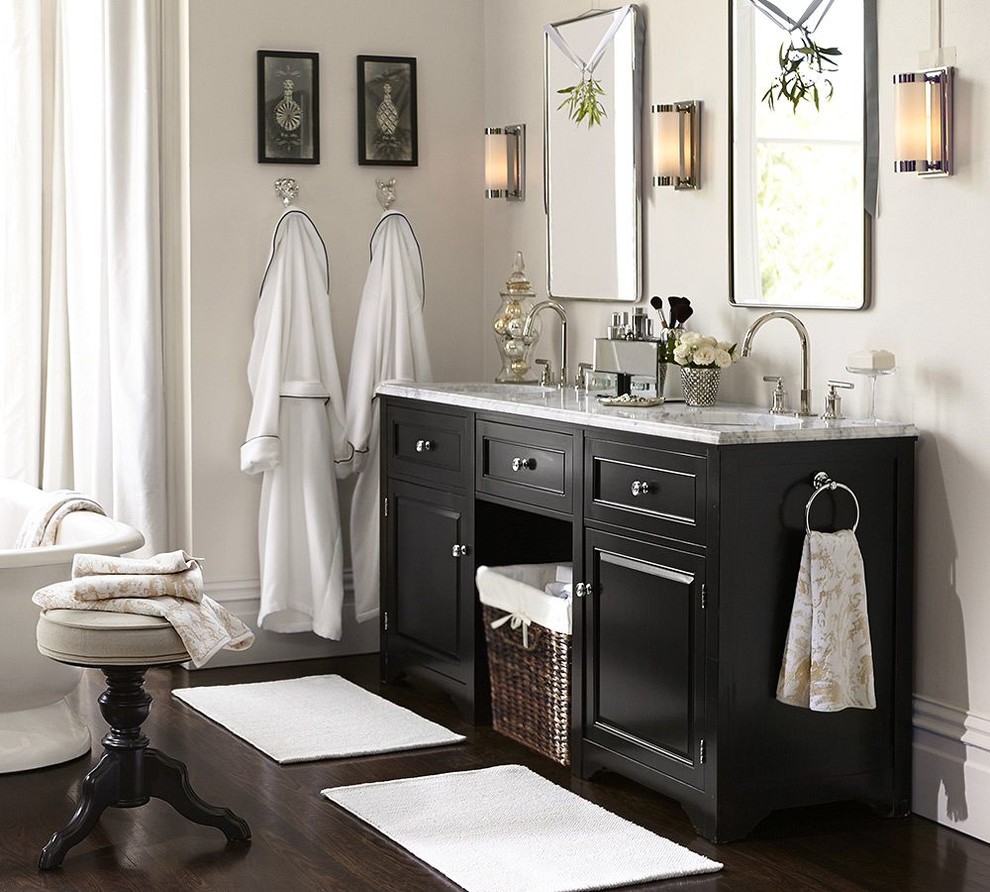 Every upscale spa features super-soft, bath sheet-sized towels, typically in pure white. They also offer their clients a plush robe to wrap themselves in after a hot shower or a long, soaking bath.
For an extra step up to luxury, consider adding a towel warmer, for that comfortably toasty feeling as you dry yourself off.
Finishing touches
Think of adding either a rainfall or pulsating shower head, depending on your preference.
And what would a spa be without aromatherapy?
There are myriad ways of incorporating relaxing scents to your home-spa experience, from fragrant candles in soothing scents like lavender, patchouli, or vanilla, to the more invigorating fragrances of eucalyptus and lemon balm so often found at the spa.
Other ways to subtly introduce fragrance include scented bath oils, lotions, soaps, and essential oils in a diffuser.
As you can see, with just a few small touches you can have a soothing, serene escape from the outside world.
And when you're ready to come home to a beautifully crafted retreat that combines state-of-the-art features with the epitome of comfort and energy efficiency, contact us to begin designing your perfect home in a Tommy Williams Homes community throughout Gainesville.
Remember that we are open and available to you with stringent safety measures in place to protect your health.
If you are interested in viewing any of our model homes, we will be happy to accommodate you with:
a private, self-guided tour of our models, complete with a map of homes, a master key, and a set of latex gloves
a virtual tour of our homes via FaceTime, or Zoom
In addition, we have expanded our opportunities for you to view our award-winning, net-zero homes remotely on our YouTube channel.
You can also watch our Facebook page for upcoming "Facebook-Live" tours of some of our most popular homes and floor plans.