How to Set Up a Great Home Office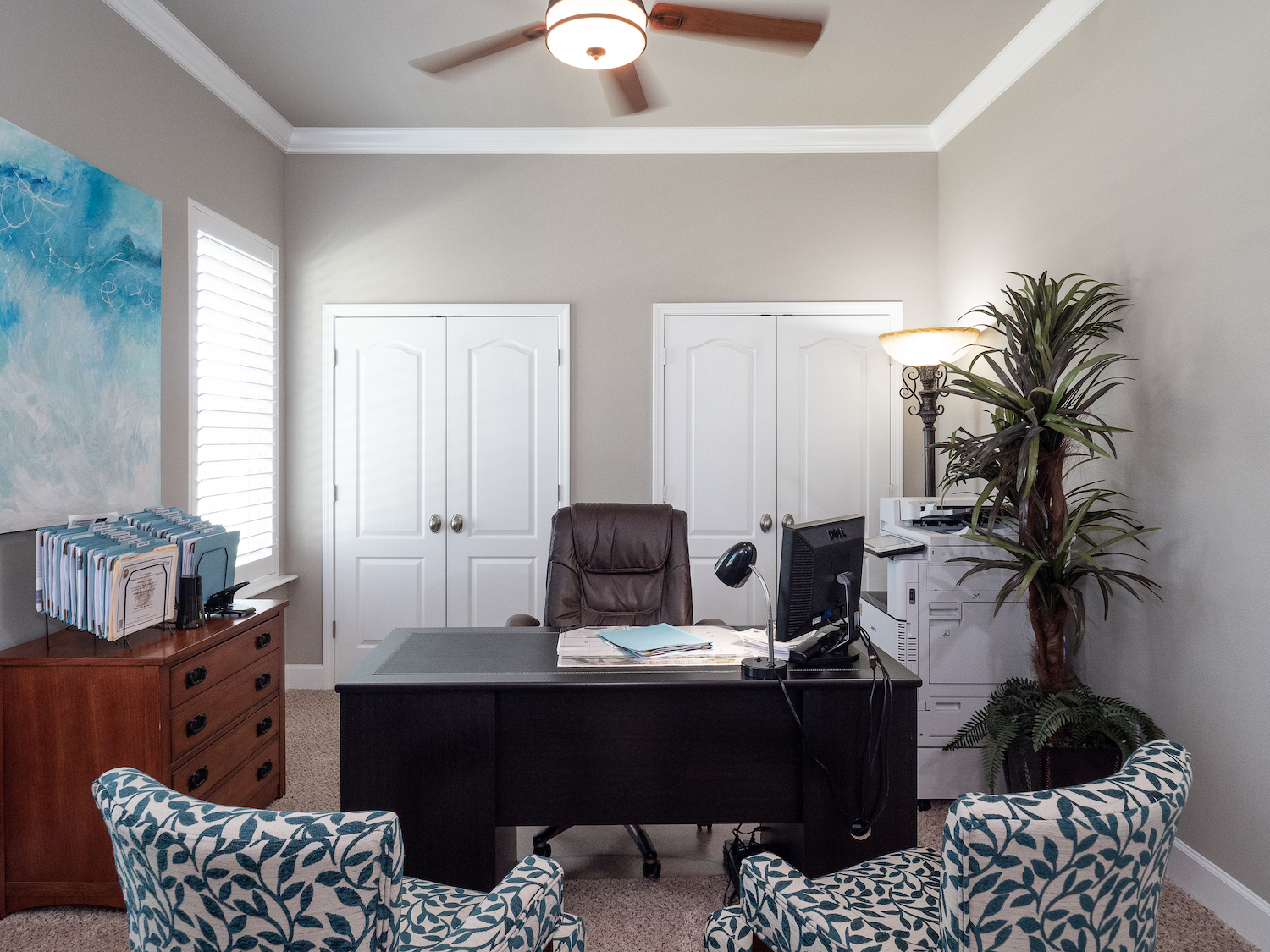 If you've had to shift your work location to your home due to the coronavirus restrictions, the green builders at Tommy Williams Homes in Gainesville want to share a few tips on how to quickly set up an efficient, productive space for you to work in.
Location
As in real estate, location is your first consideration. Ideally, your home office should have:
a door, so you can close out interruptions
a window that offers good lighting, with adjustable curtains or drapes to cut down on glare
two additional sources of lighting, preferably a desk lamp and an overhead light
sufficient electrical outlets to power/recharge necessary equipment
a strong and steady WiFi signal
If you don't have an extra room with a door that you can devote exclusively to your workspace, you can set up in your bedroom, if there's room. Some people are removing clothes from closets and working in there. At the very least, try to find an out-of-the-way place where you can set up.
Good lighting is important to cut down on eyestrain, so experiment with different lighting until you find what works best for you.
If you don't have a nearby outlet available where you've chosen to work, resist the urge to connect multiple extension cords together, which can cause a fire. If necessary, use a single extension cord rated for outdoor use.
A chair
We've listed a chair next in order of importance because if you're not comfortable, your productivity will suffer and so will your body. Musculoskeletal disorders that can occur over even just a few days include:
carpal tunnel syndrome
lower back injuries
muscle and tendon injuries in the shoulder
muscle strains
At this point, we have no idea how long the current situation will last, but it appears we'll be social distancing for several months, at least, so don't tell yourself this is only for a couple of weeks and grab any available chair.
Do yourself a favor and find an ergonomic chair. Chair features that offer the best ergonomic support will ideally have:
adjustable features, including arms, lumbar support, backrest, seat height, and seat depth
rounded, soft edges, and comfortable padding
a high backrest with a slight incline
If your chair doesn't include all these features, there are a few adjustments you can make that will help:
add a footrest if your chair is too high (even a small box will do)
add a small cushion, rolled towel, or even a pool noodle cut to fit for lumbar support
Your thighs should be parallel to the floor and your feet should rest on the floor. Your forearms should be parallel to the floor, and your lower back should be supported, but your chair should allow you to lean back a little.
A desk
If your workspace is tucked into a closet, you may not have much choice in a desk surface that will fit, but ideally, your desk will allow you to position your screen at or slightly below eye level, and to place your keyboard and mouse so that your elbows are bent at 90 degrees.
Try to find a surface that is close to elbow height when you're seated in front of it. Of course, you want enough room to spread out any books or papers, if necessary, as well as any tools you might need. (A tip: Unless you use your smartphone for work, it's best to keep it in another room to avoid distractions.)
If you're using a laptop, experts recommend adding an external keyboard and mouse to allow you to type with your wrists straight and your shoulders relaxed.
If you're used to working at a standing desk in your office, you can use an ironing board as an alternative at home.
Whether at work or at home, remember you aren't chained to your desk. It's important to get up and move around at least once every hour or so to reduce the danger of circulation issues.
Despite the coronavirus, we know that people are still in search of new homes. If you're looking for a home, rest assured that Tommy Williams Homes has instituted strict precautionary measures to protect you as well as our staff.
In addition to practicing safe social distancing and sanitation measures, we are also limiting the number of visitors to our high-traffic model homes. If you are interested in viewing one of our quick-delivery or model homes, we will be happy to accommodate you with a private viewing or through a FaceTime, or Zoom call.
We have also expanded our opportunities for you to view our award-winning, net-zero homes remotely, with virtual tours on our YouTube channel.